Linda W. Travis
Principal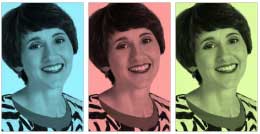 Seasoned researcher, consultant and copywriter Linda Travis combines curiosity and knowledge to give brands a unique voice. For 20+ years Linda has asked the right questions to uncover hidden value that feeds the creative process. The result is brand insight, advice, and content to address business challenges head on.
Find the underlying value of a brand– inside and out, Linda says, and you'll have the authentic foundation on which to grow.
What We Do
The brands we work on are the stars of the show, not us. In fact, we often play a behind-the-scenes role, working under the umbrella of other marketing agencies or collaborating behind closed doors on product innovation for Fortune 500 brands.
Our core areas of expertise are:
Brand Consulting – Naming, Tagline Generation, Positioning, Core Story
Copywriting – Print & Digital Media
Why a "Renovator"?
The Brand RenovatorSM was founded over 10 years ago. The renovator metaphor was inspired by Linda's own knack for seeing past an outdated façade to the hidden treasure underneath. Careful not to throw out the good with the bad, she penned the company's tagline: Keep the best. Revitalize the rest.
As Principal of The Brand Renovator, Linda renovates brands to make their mark in a bigger way and helps new brands build a lasting legacy.
Who We Are
Linda Travis has been a marketing practitioner in Atlanta for 20+ years, including 7 years as head of Marketing Research & Consulting for Wachovia, now Wells Fargo.
A Fuqua Scholar of Duke University's Fuqua School of Business, Linda has spoken widely on branding businesses, services, and people.
She has been featured in Business to Business Magazine, Catalyst Magazine and Oz Magazine.